Shri Surat Panjarapole is about 250 years old Public Charitable Trust engaged in serving the noble cause of Gauseva and Jivdaya by catering to the needs of shelterless, old, disabled, injured, dumb animals like cows, oxe, calves, sheep, goats, buffalloes, horses, camels, donkeys etc. The trust had also established and runs a well equipped modern Veterinary hospital "Nandini" to shelter, treat and to give relief to the suffering animals & birds when they are in diseased or crippling old age condition.
As a part of our dedication to the above cause, we can say that at present about 10000 (Ten Thousand) big & small animals are provided shelter, food and medical treatment in its branches 'Vrundavan' at Ghod Dod Road Surat, 'Gokul' at village Bhestan in Surat, 'Vrajbhumi' at village Tharoli, sub district Kamrej Dist Surat and 'Giriraj' at village Akhakhol sub district Kamrej Dist Surat. The Trust has engaged 3 well experienced and knowledgeable veterinary doctors and about 12 live stock inspectors to give adequate and intensive treatment to sick, injured, disabled and weak animals of Panjarapole. All the animals in the four branches of Panjarapole are regularly dewormed and vaccinated against the diseases such as Foot and Mouth Disease (F&M.D.), H.S,ET, B.Q.,CCPP,PPR etc.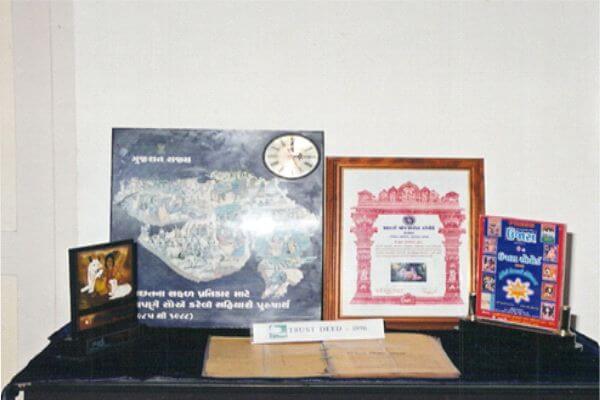 For the Philanthropic activities for the cause of Gauseva and Jivdaya Trust was twice adjudged as the Best Panjarapole by "The Gauseva Aayog" of Gujarat Government and many other organizations have also awarded and appreciated the activities of the trust. The dignitaries and donors have unreservedly appreciated the noble work done by the Trust in the cause of suffering & non suffering segments of animals - big or small & the birds.
Board Of Trustees
| Sr No | Name | Designation |
| --- | --- | --- |
| 1 | Shri Chandrakant R. Gandhi | Chairman |
| 2 | Shri Kirtikumar K. Shroff | Managing Trustee |
| 3 | Shri Nayan N. Bharatia | Managing Trustee |
| 4 | Jagdishchandra B. Nagarseth | Trustee |
| 5 | Atulkumar H. Shah | Trustee |
| 6 | Babubhai P. Gandhi | Trustee |
| 7 | Ashit V. Gandhi | Trustee |
| 8 | Jitendra B. Shah | Trustee |
| 9 | Prakash R. Patel | Trustee |